Excellent Monitoring
Non-stop network monitoring to ensure continuity and availability of our network is first on our agenda; hence, continuous preventive maintenance system is regularly set to minimize potential failure even during normal operation. Another vital unit is the Network Quality Team that examines every minor area but contributes significant result as to ensure the stability and safety of the entire system and network whereby the main 3 areas are as follows: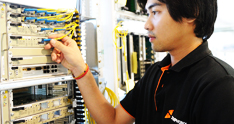 Customer Site :
Our team of expert, with prior appointment, will inspect customer's premises to ensure that equipments and parts installed are operating smoothly and are prompt to receive feedback or comment from customers for further improvement.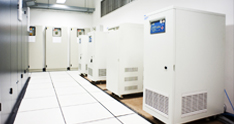 Node :
is the connecting point of core network and sub-networks. It is crucial to have equipment maintenance including influential environmental aspect that might affect data communication service i.e. maintenance of air conditioning to ensure that temperature and humidity are within the required standard, ensure that electrical power and backup are in place and ready at all time and that all network equipment are in good condition.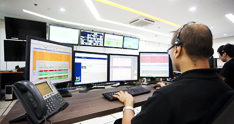 Last Mile:
This is the delivering connectivity service to customer's internal and external premises with operating team to inspect connectivity at all time. Instantaneous remedy will be taken before there is any effect on connectivity services when failures occur. In addition, there is coordinating team which coordinates with various agencies i.e. TOT Public Company Limited, Metropolitan Electricity Authority (MEA), Bangkok Metropolitan Administra tion (BMA) and other relevant agencies to identify if any improvement and modification taken thereof has any effect on the service provided by Symphony to ensure constant preventive measure and smooth operation at all time.
Symphony´s NOC serves as the customer entry point for all service outage reports and other service related faults. We are staffed by customer service professionals specialized in the Telecommunications industry, all with technical backgrounds and customer management training, and fully integrated with the network surveillance and Fault Resolution.
Symphony´s NOC has a staff of experienced network engineers with CCNA and In-house Certification working on a 24×7 schedule.
Able to communicate effectively in English.
Fault ticket reference number will be provided to the customer and should be used every time customer service is contact
66(2) 101 1100.
Reform and adjust the system within 3-4 hour.
Feedbacks will be periodically given to customer as per the standard procedures.
Another service which enhances our reliability is the data backup center or "DROC" (Disaster Recovery Operation Center). The DROC is a virtual network operation center with comprehensive disaster recovery plan which will automatically replace the main network in time of disaster to ensure business continuity, together with highly skilled and well trained operational and technical personnel. Secured location is another key factor whereby it is able to support every volatile situation with power backup system, temperature control and remote surveillance camera control from main network operation center

REPORT
Monthly report of network service availability through E-Mail.
Customers can examine their usage reports from web-based online system.