MESSAGE FROM THE BOARD OF DIRECTORS AND THE MANAGEMENT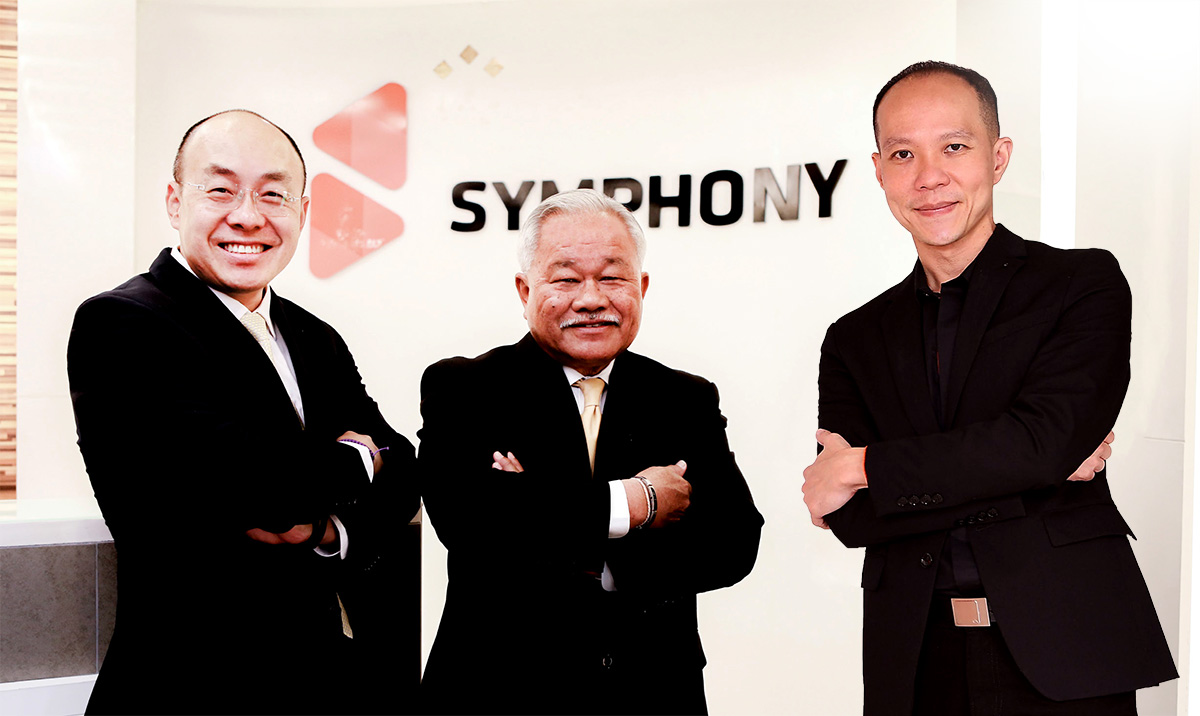 Message from the Board of Directors and the Management
Dear All Shareholders and Stakeholders,
Throughout the year 2021, we encountered competitions and disruption that came from both internal and external factors. These were opportunities and challenges for operations and business of the Company. The prolonged circumstance of Coronavirus Disease 2019 ("COVID-19") from the previous year sets severe impact to economy and society across the world. Social distance and lock down measures introduced to curb the spread of the virus resulted in business operations, including ways of daily life turn into new normal. Alongside these, digital technology and telecommunication have become a greater significant role and surged to the forefront.
Amid the said circumstance, coupled with volatility, uncertainty, and ambiguity of the situations that cannot clearly predict the direction and impact, we adhered to a flexible strategy focusing on a rapid adaptation to all changing landscape aiming to drive the Company's operations with the potentiality of maintaining the business target as planned, along with safeguarding all stakeholders, including employees, customers, suppliers, and society . In this regard, we took various measures, for instance, lending flexibility and adapting the way of work to work from home, simplifying work process, enhancing efficiency of work process and service quality by adopting digital technology to improve performance, focusing on cost efficiency management and revenue optimization, and putting concise and cautious risk management in place to help mitigating impacts. Aside from adjusting the operating plans to enable the Company to overcome constraints in business operations, we took the opportunity during this time to analyze and crystallize our business strategy in order to enhance our core competency, strengthen competitiveness and ensure our preparedness to grow the business. In consequence, the Company's operation in the past year was able to move forward without interruption and compromising on service quality.
As a telecommunication service provider, we are well aware of our role to support the nation's economy and social activities to move forward efficiently and safely and recognize our responsibility in supporting and facilitating the transition of lifestyle and businesses into the new norm. As we adapted to the challenges arising from the Covid-19 pandemic, we stayed true to our mission and core beliefs. Delivering excellent experience and premium service were our top priorities. Hence, strengthening quality and stability of our network infrastructure, including improving our services to achieve the highest quality and efficiency to cater to the increased data consumption and connectivity needs of our customers remained our key focus. In the past year, we continuously expanded our services to cover all potential business areas, diversified the third route for the backbone connectivity to all regions of the country, including launching new digital services to accommodate customers' demand and support continuity of customers' business in the digital era. Furthermore, we have initiated the investment project for improving and enhancing quality and capability of our main network infrastructure by switching to the latest innovations and future proof technology. This is to ensures that the quality of network infrastructure with new technology will provide worry-free service to our customers, fulfill all demands for digital technology and support digital transformation to promote the country to the era of digital economy completely.
Under ongoing quality improvement, we achieved to receive the certificate of ISO/IEC 27001:2013, which is the international standard for the Information Security Management System (ISMS) and the certificate of CSA-STAR (Cloud Security Alliance, Security, Trust & Assurance Registry), which is a cloud-based security standard. Being certified by these international standards will help strengthening confidence in information security management system for our customers in using and demonstrates our commitment to providing quality services and excellent experience to our customers.
Thanks to our commitment amid the crisis and business plight, we were able to register significant growth. In 2021, we had greater customer base, both domestic and international, especially OTT (Over-the-top) customers who provide contents via online platform and regional telecommunication service providers. In term of financial and operating performance, we posted Baht 1,525.2 million in total revenue and Baht 163.5 million in core net profit, increased by 15.4% and 58.3% respectively compared with the year 2020. The main factors were from the growth of domestic and international connectivity services revenue, lower depreciation expense, lower financial cost, and one-time reversal of the provision of the USO case. (Further details are set in No. 24 of the Notes to the Financial Statements under the Part 3 of this report). These demonstrate our strong performance and continued growth amid crisis and challenges. Nevertheless, it cannot be denied that the Company had to recognize share of loss of AIMS Data Centre (Thailand) Limited ("ADCTHW), which is our associate company, amounting to Baht 34.7 million. This resulted in the Company reported the net profit for the year 2021 totaling in the amount of Baht 128.7 million, increased from the year 2020 by 35.1%. Nevertheless, following the strategy and operational plan adjustments, we will see ADCTH's improvement in 2022.
Sustainable business practice by adhering to environmental stewardship, social responsibility, and management under good governance in accordance with the Sustainable Development Framework (Environment, Social and Governance : ESG) with ethics, integrity, transparency and zero corruption is at the heart of our philosophy. Mirroring this are accolades and awards on good governance including "5-STARS" or "EXCELLENT" level from the Assessment of Corporate Governance Report of Thai Listed Companies for 2 consecutive years, receiving 100 full scores from Annual General Meeting Assessment, and receiving Business Ethics Standard Awards 2021 from the Thai Chamber of Commerce.
All our achievements over the past year are a testament to the hard work of our employees and the management. On behalf of the Board of Directors, we would like to take this opportunity to express our heartfelt gratitude to all employees and executives for your resolute collaboration and dedication to the make the Company achieve goals through this year's most challenging situations We would also like to extend our sincerest appreciation to shareholders, customers, suppliers, business partners, financial institutions, public and private agencies, and all groups of stakeholders for your trust and continued support. The company has still placed our focus on continued strong growth; while conducting the business based on sustainability with due regard for balance of economy, social and environmental aspects under good corporate governance principles in order to lead the organization to move forward and grow sustainably, and most importantly,  taking good care of and rewarding all of our shareholders and stakeholders to the best of our ability, and being a part in developing our nation.

(Mr. Woodtipong Moleechad)
Chairman of the Board

(Mr. Kranphol Asawasuwan)
Chairman of the Executive Committee and President

(Mr. Alex Loh )
Chief Operating Officer