MESSAGE FROM THE BOARD OF DIRECTORS AND THE MANAGEMENT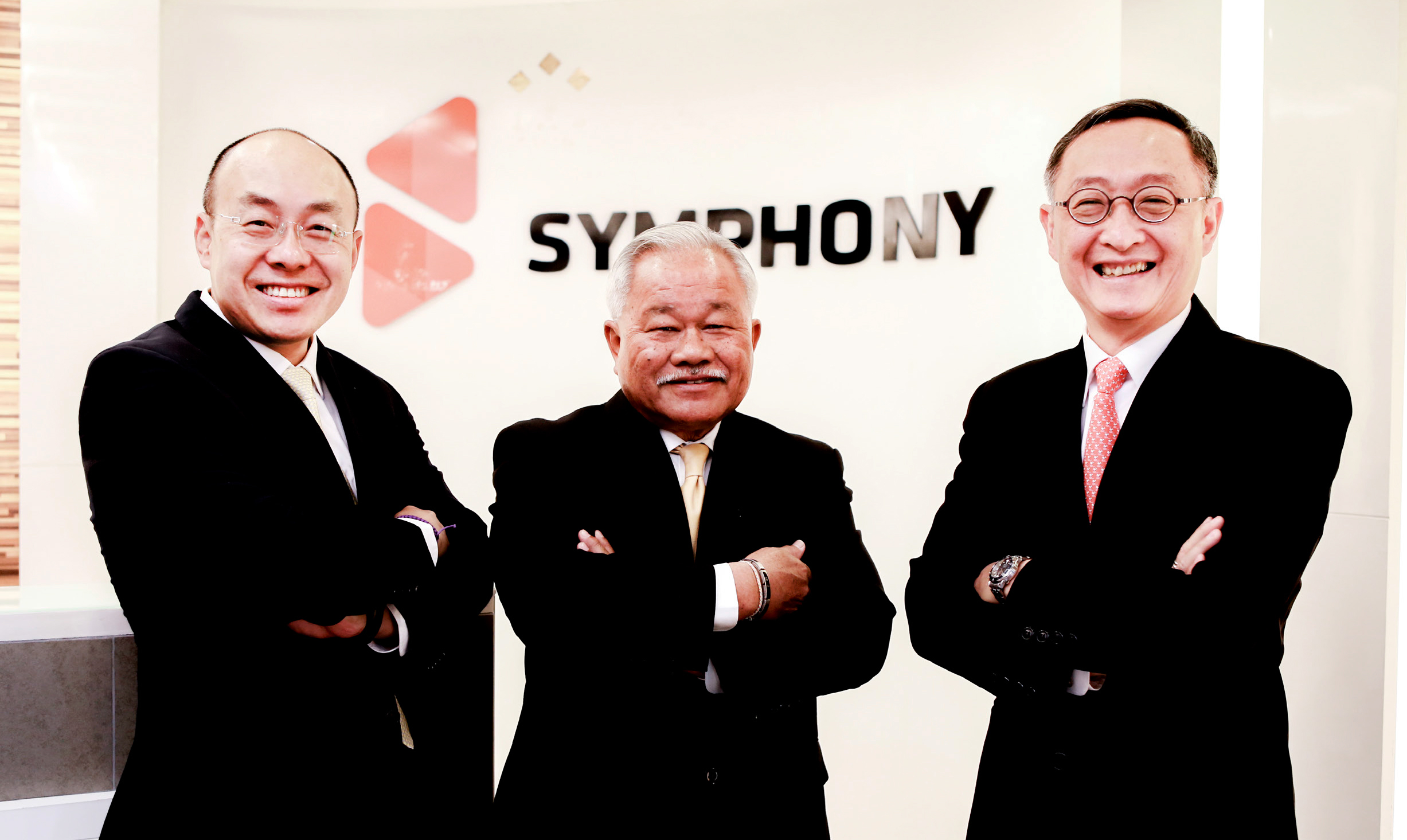 The Company foresee growing demand for international connectivity especially connectivity to CLMV countries (Cambodia, Laos PDR, Myanmar and Vietnam) that having high economic growth rates. Thus, we envision and set path to develop ourselves to become a Regional Network Service Provider to support a mission to be telecom hub within next 5 years.
Message from the Board of Directors and the Management
To Shareholders and Stakeholders
The situation of the coronavirus disease 2019 or COVID-19 occurred in the past year and has continued until now has been a crisis that no one expected. It has severely affected economy and society at both national and global levels. Symphony Communication Public Company Limited ("the Company") has been directly and indirectly affected by the fallout of the outbreak as well. Nevertheless, with the appropriate management strategies and operating plans, focusing on cost efficiency management and revenue optimization, managing existing assets to be able to generate income at full capacity, including concise and prudent risk management, which helped mitigating impacts, the Company's operations has been able to move forward without interruption and compromising on service quality. Nevertheless, the pandemic COVID-19 forced the government to take measures to control the situation and prevent the spread of the virus by campaigning Social Distancing. This resulted in business operations and people lifestyle transform into the New Normal, such as work from home, e-meeting, online learning, and online shopping, etc. The New Normal drives business and transactions to digitalize rapidly, resulting in an increase in speed and bandwidth through the customers' communication network.
To meet customers' needs and fulfill the increasing demand for digital technology, including maintaining competitiveness, the Company, in 2020, further invested in network expansion to cover economic potential areas of the country, improvement of network quality and efficiency, and improvement of service quality. Currently, the Company provides network service through fiber optic cables distancing 25,000 km., covering Bangkok, vicinity, and major business areas in 50 provinces, and has 18 service centers nationwide. The Company also collaborated with business partners and service providers to expand network and connectivity services to wider group of customers, for example, signing a Memorandum of Understanding (MOU) with CAT Telecom Public Company Limited to leverage existing and upcoming telecommunication networks and services of both parties to enhance services to customers, signing a MOU with BKNIX Company Limited and AIMS Data Center (Thailand) Limited to enhance the efficiency of Thailand's internet connectivity, signing a MOU with Creden Asia Company Limited to provide electronic authentication and verification services or Electronic Know Your Customer (e-KYC) and Electronic Signature (e-Signature) systems to speed up online transactions by linking many government agency databases in real-time, reduce paper consumption and improve productivity to business customersม and collaboration with the Office of the National Broadcasting and Telecommunications Commission (NBTC), the Telecommunications Association of Thailand under the royal patronage and other nine leading telecommunication operators to establish Thailand Telecom Computer Emergency Response Team (TTC-CERT) to combat cyberthreats that may affect telecommunications services, which will provide security for service users.
In addition, to create a long-term growth performance and to achieve the goal of being the leading integrated telecommunications service provider in Thailand, the Company expanded into adjacent business by jointly investing in AIMS Data Centre (Thailand) Limited to develop and provide data center services in Thailand with TIME dotCom Berhad ("TIME"), the Company's major shareholder and strategic partner who has expertise and strong experience in data center design, construction, and operations with huge success in Malaysia and other ASEAN countries over many years. The data center project is located in the central business district of Bangkok, which was completed in accordance with the standard requirements of the Data Center TIER 3 and officially opened for service at the end of 2020, providing Carrier-Neutral Data Centre services that supports a full range of information technology infrastructure needs covering server storage space (Co-location), data connection service from the server to the external network (Cross Connection), domestic connectivity, international connectivity, both IPCL and IP-VPN, and disaster recovery (DR). The joint investment is considered to build the business base for potential growth through the transfer and exchange of technical knowledge which will increase the efficiency of simplified operations, including future expansion.
With commitment and dedication of the Board of Directors, executives, and employees as mentioned above, including good collaboration of business partners, trust from customers, and supports of various agencies, it resulted in the Company grow continuously and meet the targeted results. For the year 2020, the Company posted a revenue of Baht 1,321.5 million, increasing by 1% from the previous year. EBITDA and net profit were Baht 635.6 million and Baht 95.2 million, increasing from the year 2019 by 10.7% and 113% respectively. Earnings per share was Baht 0.22.
In term of principle of business operations, the Company has continuously adhered to the implementation of good corporate governance principles for long term business growth, having continually reviewed and improved its management and operations to achieve greater efficiency. Every work process takes into account of creation of sustainable value to the business, responsibility for society and environment, equitable treatment to all stakeholders, strictly complying to standard of safety, occupational health and environment at workplace, as well as relevant laws and regulations; and combatting all types of fraud and corruption. Mirroring this are awards and recognitions including "Excellent" level from the Assessment of Corporate Governance Report of Thai Listed Companies for the year 2020 conducted by Thai Institute of Directors Association under the support of the Stock Exchange of Thailand, the quality assessment of 2020 annual general meeting of shareholders with 99/100 points, and being certified as membership of the Private Sector Collective Action Against Corruption (CAC).
On behalf of the Board of Director and management team, we are grateful to the employees for their resolute collaboration and dedication to make the Company achieve goals through this year's most challenging situations . We would also like to extend our sincerest appreciation to shareholders, customers, suppliers, business partners, financial institutions, public and private agencies, and all groups of stakeholders for their continued support, recommendations, and trust in our Company's operations. The company has still placed our focus on developing digital and technological infrastructure as well as skilled resources to enhance competitiveness of the business; while conducting the business in line with strategies that emphasize a balance in economic, social and environmental dimensions based on good principles of corporate governance, transparency and non-corruption, including putting priority on adaptation to various situations in order to lead the organization to grow and move forward sustainably, and most importantly, taking good care of and rewarding all of our shareholders and stakeholders to the best of our ability, and being a part in developing our nation.

(Mr. Woodtipong Moleechad)
Chairman of the Board

(Mr. Kranphol Asawasuwan)
Chairman of the Executive Committee

(Mr. Teerarat Pantarasutra)
President