SYMPHONY Virtual Firewall
Symphony Virtual Firewall service can help company and organizations ensure staff and guest are securely accessing the internet and Cloud.
This Virtual Firewall are a critical security layer that virtually all businesses require. But maintaining the perimeter security against ever changing threat landscape has become a major challenge for many organizations. Firewalls, if not well managed, can easily become an unwitting security risk and businesses struggle to maintain control of their security, without impacting their business.
A Symphony Virtual Firewall service mitigates this headache, and plugs a vital security gap, without the need to engage costly in-house IT resource.  This service is fully managed by us, including its design, installation, configuration, and day-to-day maintenance of VMs and software components as well as expert support from our proficient cyber security professionals, and 24/7 proactive network monitoring.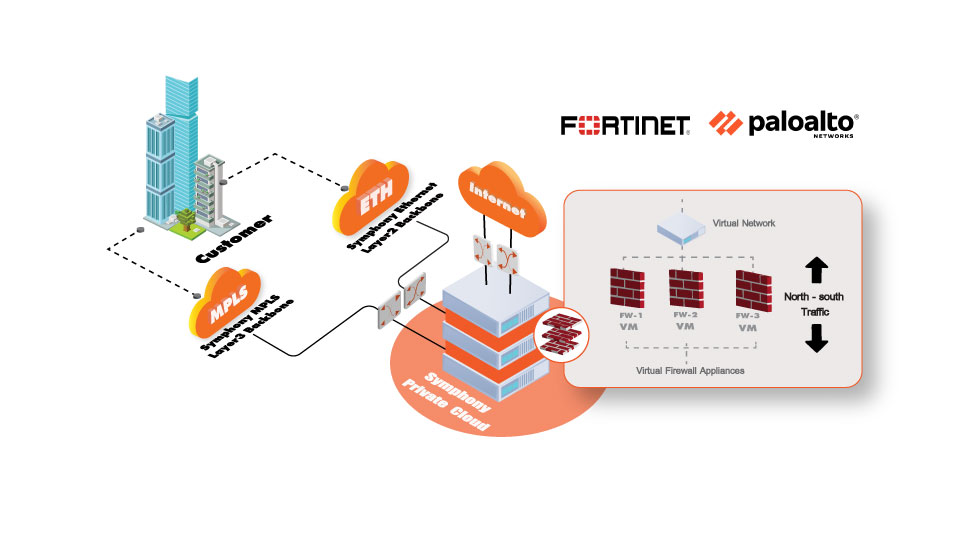 To scale out, parallelize the enforcement of security controls and flexible placement of security controls.
To potentially reduce the cost, as compared with the use of physical appliances
To speed the provisioning of security controls by making their provisioning as easy as provisioning a new VM.
To enable high reliability on Enterprise cloud and network infrastructure support team prevent case of system downtime.
To provide visibility into blind spots, such as inter-VM communications, without requiring all traffic to be routed to physical appliances.